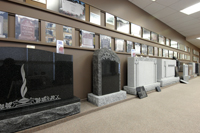 About Granite
---
COLORS OF GRANITE
Granite is renowned for its hardness, durability and beauty. It is natural stone, formed deep within the molten core of the earth chiefly from quartz and feldspar. For more than 5,000 years, granite has been quarried and used in construction and monuments.
There are many different colours of granite, according to the specific mix of minerals. No matter what colour a sample is, the crystalline structure of the rock means it will always has a wonderful depth, richness and texture. It is able to withstand centuries of exposure to the elements and retain its beauty.
Benjamin's Landmark Monuments is pleased to offer the following colours of monument-grade granite. Please place you mouse on a colour to enlarge the image:
---
---
PERSONALIZING THE MONUMENT
Working with our monument counselors, you can choose an appropriate inscription and design for the headstone to reflect the "person in the stone." This will help all who visit the grave continue to feel a connection to the one who has passed on.
For examples of granite memorials,
click here